And if you have a military urge, try some of these: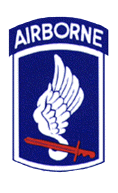 The 173rd Airborne Home Page (my HOME, Feb 1968-69)

HEY! You men from "The Herd" take a look at 173rd Airborne.Com, there's lots of good stuff there about the old and new 173rd Airborne BDE (Sep).

For some shots of the 173rd's FIGHT for Hill 875, click here

Watch the Invasion by Paratroopers of Co. F 425th Inf. in the Selfridge ANG Base AIRSHOW 2000. A frame by frame experience.

Click here for some JUMP PICTURES with Co. F Paratroopers

Did you ever wonder where the music for TAPS came from? Obtained from the Encyclopedia of Amazing but True facts

I'm a life member of the
. If you are member too, click the icon to find out up to date info of what's going on.
This has a lot of stuff for Veterans, it's REALLY worth looking at.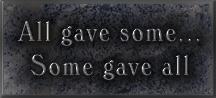 AIRBORNE AND MILITARY LINKS


Doc's Patriotic Graphics


www.173rd.com

MAINCHUTE.COM